Top 10 Android Music Player List
Hey, are you search the top 10 Android Music Players best list, here you can find the best popular and interesting Android Music Player App to available to download in your favourite mobile phone. In the below lines, you can find the best music player without ads.
The android phone that we use is a music player that comes with no ads and should be bought with money as the premium music player or as the default google music player.
But in cases where the equalizer needs to be changed, the expected skin should be appreciated. As a result, we have some music player apps are available customization for free in the Google PlayStore.
If you are bore or hobbies to listen to music, enjoy the sounds with these android music player best beats.
Listening music is gives relaxation to your mind and body, it gives the best part of your life relaxation.
But some times you mobile will limited features with stock music player, because of limitations in a user interface or app development.
When you are questioning your self! why not download a music player app and install it.
Yes, you can. Different Android music player app downloads in the Google Play Store and also available in a third-party app store. But only a few are perfect without limitations and ad-free.
You know ads are irritating in music player when you are listing your favourite song. So, here you can find different types of music player apps list, pick up you're related to your taste.
What music app has no ads?
Below section provides information about android music player app download with no ads.
Musicolet Music Player: 4.7 Rating and 1 million downloads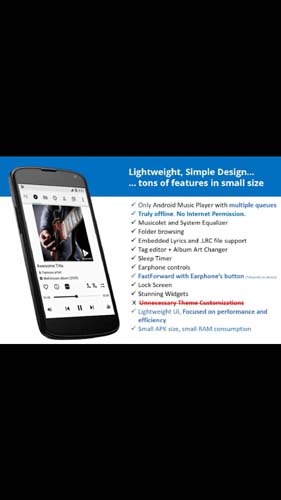 Musicolet is a simple and light yet powerful music player. It can support multiple queues, can create a maximum of 20 queues.
Simple GUI with minimalist design and easy navigation, Supports play-queues, folders, albums, artists, playlists are in just one row. Single click for pause/play, double click for next and triple-click for the previous song.
This app does not support music streaming or downloading and doesn't have internet permission.
Download: Play Store and Google Drive
Pulsar Music Player: 4.6 Rating and 1 million downloads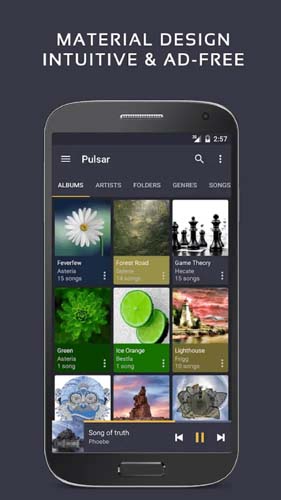 Pulsar Music Player is one of the best music players on Android Platform. Simple user interface with stunning looks. automatic sync missing music album art images.
Supports gapless playback feature and also supports play speed adjustment.
More features are inbuilt Pulsar Music Player.
AIMP: 4.5 Rating and 10 million downloads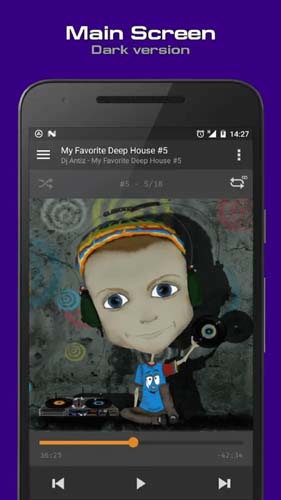 This application for Android is a light version of the AIMP free music app for Android OS.
It can support all major audio formats and built-in dark and light version of the Bliss skin.
Supports for customized themes and defined playback queue, multiple playlists, smart-playlists based on folders, Internet radio and HTTP Live Streaming.
This Application may work unstable on Xiaomi and Redmi devices based on MIUI firmware.
Does isn't supporting the built-in music library and uses the old-school playlist-based approach to music playback.
GM Music
: 4.5 Rating and 10 million downloads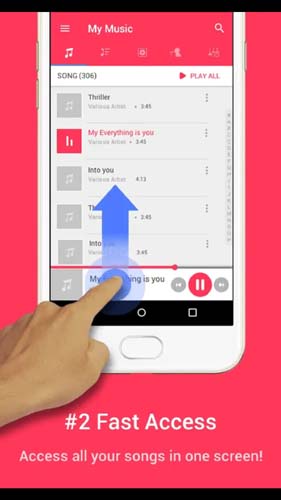 The music player will guide through all the audio files on the phone.
Supports to crop songs, create a ringtone, can use songs as an editable ringtone, alarm tone or notification tone, equalizer types, 7 types interface, theme changing, fast access, personalized playlists, album art and more.
Jaybird MySound: 4.5 Rating and 500 thousand downloads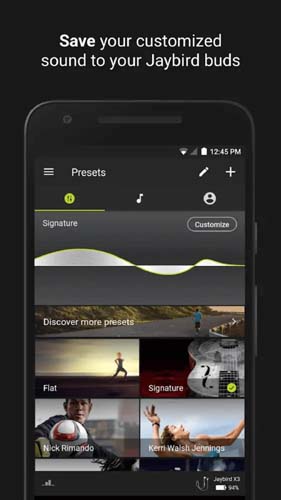 The app allows to customize the own equalizer preset settings, then save them to buds no matter what music device they're paired with. If looking for music to push limits, then try the Jaybird music feature.
Explore Spotify playlists of users to find new music to run and workout with.
Musicana Music Player: 4.5 Rating and 100 thousand downloads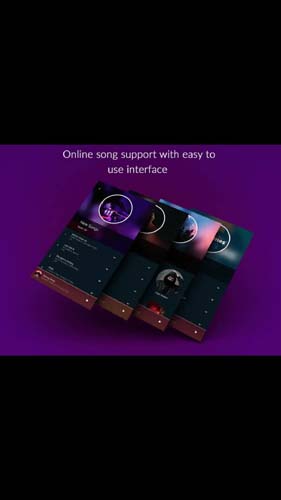 The music player can simply play, stream, tune and identify songs. It is an innovative, best free music app for android with 5-band equalizer.
The simple user interface can support for finding lyrics, online music streaming, fast song recognition, multiple-language and more features.
AOSP Music+:
 4.4 Rating and 1 million downloads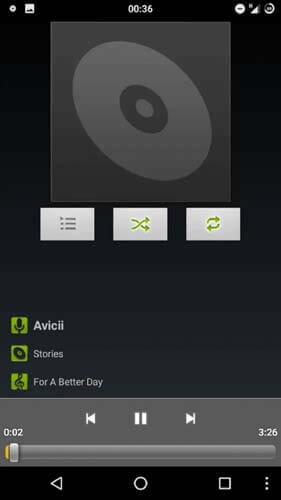 Enhanced, ad-free version of the AOSP music app for all devices. It is ad-free, this application is a custom build of the KitKat Android 4.4 AOSP music app.
It works on most android phones and tablets running Android 2.3 and higher.
Simple Music Player: 
4.4 Rating and 1 million downloads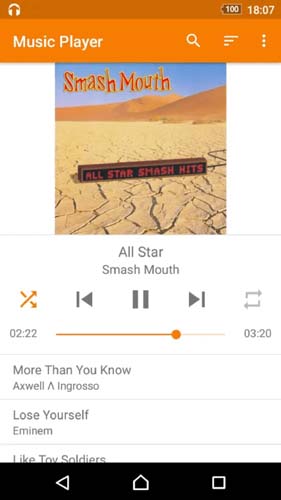 A clean music player with a customized widget. It can easily controllable from the status bar, home screen widget or by hardware buttons on the headset.
It can sort the tracks by the title or artist, as well as change the equalizer. It contains a widget with customization text colour, alpha and the colour of the background.
VLC for Android: 4.4 Rating and 100 million downloads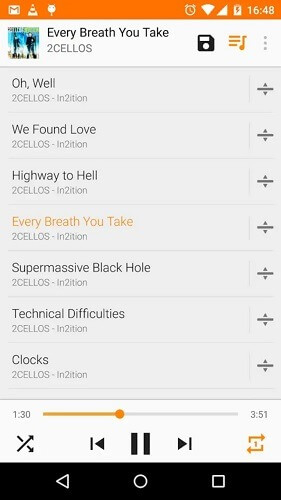 VLC is a well know software of desktop platform, now it's available in Android offers free and open source cross-platform.
A multimedia player that plays most multimedia files as well as discs, devices, and network streaming protocols.
This application is intended for everyone, is free and no ads, no in-app purchases, no spying and is developed by passionate volunteers.
It can play any video and audio files, as well as network streams, network shares and more features.
Foobar2000:
4.3 Rating and 500 thousand downloads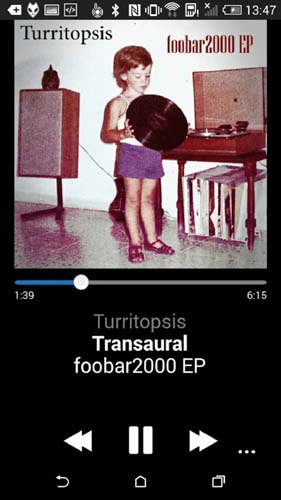 Foobar2000 is an advanced mobile music player for mobile devices.
Supports MP3, MP4, AAC, Vorbis, Opus, FLAC, WavPack, WAV, AIFF, Musepack and more audio formats. Gapless playback supports playback and downloading music from UPnP media servers.
Folder Music Player: 4.2 Rating and 50 thousand downloads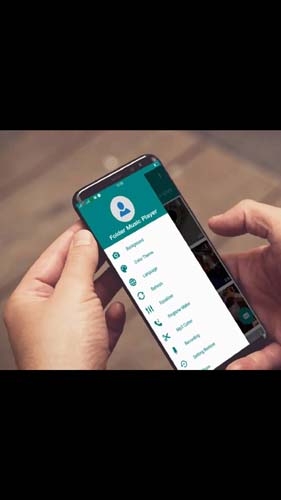 This application is an ad-free latest music player, supports folder, equalizer, fast discover local music and arrange in the folder.
It has a custom background skin, theme, colour, playlist, favourite list, mp3 cutter, recording, ring cutter and easy assign ringtone to phone contact.
Media Player (no-ads): 4.0 Rating and 10 thousand downloads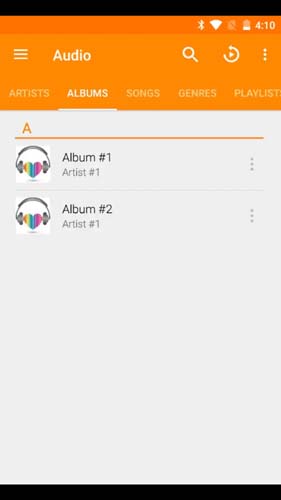 Media player from the VLC Open Source project, completely free and with no ads.
It supports MP3, MKV, MP4, AVI, MOV, Ogg, FLAC, TS, M2TS, Wv and AAC.
All codecs are included with no separate downloads.
It supports subtitles, Teletext and closed captions.
abMusic (music player)
: 3.6 Rating and 10 million downloads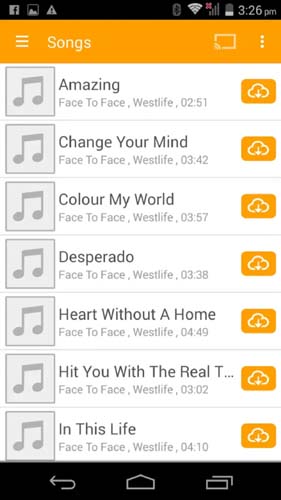 Connect the phone to PC audio files in the cloud and start listening to music.
Use PC, smartphone or any smart device to host music collection and start playing it on the go.
Synchronize premade playlists from PC to phone using abMusic and start listening to music anywhere.
Here the information about why these best free music app for android became so popular in the Android Platform, just try one of the apps for your choice
Why these free music app became so popular
The Google Android operating system comes with Google Play Music as the default music player.
But customization of equalizers, skins, editing ringtones and some options are not available in the default music player.
Many third-party applications are offering customization of skins, equalizers and more features.
Majorly available android music player app download in the Google Play Store or any other App Store for Android Applications have contained ads and need in-app purchase.
Some of the developers are given free to use and no need to app purchase for extra features in the Google Play Store.